Entrepreneur magazine recognizes the global real estate franchisor for its continued growth.
Already named a top franchisor in 2021, RE/MAX is now also recognized as a fastest-growing franchise – for the eighth straight year! The March issue of Entrepreneur magazine ranked RE/MAX on its widely respected 2021 Fastest-Growing Franchises list. This is the 20th time RE/MAX has made the list and the third time it's appeared alongside Motto Mortgage, the second franchisor of the RE/MAX Holdings family of brands.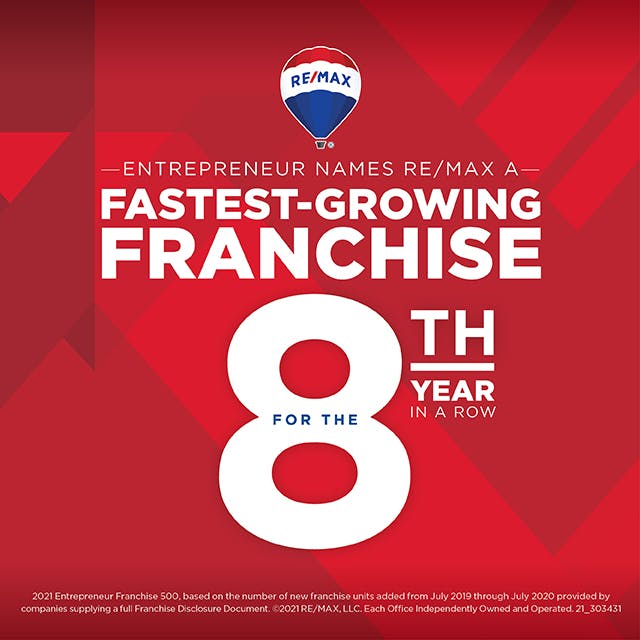 In 2020, RE/MAX, the global real estate franchisor, welcomed more than 1,000 new franchises and renewed more than 1,100 brokerages despite unique challenges brought on by the pandemic.
"At RE/MAX, we open doors for people who want the freedom, worthwhile challenge and exciting opportunity that comes with building their own real estate business," says Peter Luft, RE/MAX Vice President of Franchise Sales. "RE/MAX owners are in business for themselves but not by themselves, and the demand we continue to see year after year is a testament to the reliability of our model."
Franchises on the fastest-growing list are ranked based on the net total of units (both franchised and company-owned) added globally from July 2019 to July 2020. In previous years, only U.S. and Canadian unit growth was considered – 2021 marks the first year that the ranking is based on systemwide growth, in recognition of the increasingly global nature of franchising.
"As a company with a growing footprint in over 110 countries and territories, our franchise's position in this ranking is continued proof of concept," Luft adds.
RE/MAX was founded in 1973 by Dave and Gail Liniger, with an innovative, entrepreneurial culture affording its agents and franchisees the flexibility to operate their businesses with great independence. Nobody in the world sells more real estate than RE/MAX, as measured by residential transaction sides.