A real estate leader on a global scale, RE/MAX® excels in a multitude of areas – one of which is global growth. Accordingly, RE/MAX – with a presence in more than 110 countries and territories – is being recognized as No. 7 on the 2023 Top 10 Fastest-Growing Franchise Worldwide list by Entrepreneur®.
It's the second year in a row that RE/MAX has earned a top 10 spot, with the brand having ranked on the list for 22 total years – the past 10 consecutively. In its most recent rendition, Entrepreneur's Fastest-Growing Franchise Worldwide ranking is based on the net total new units (franchises and company-owned) added worldwide from July 2021 to July 2022.
"RE/MAX continues to rank on these respected lists because entrepreneurs see the value in aligning with a top brand that empowers them to be in business for themselves but not by themselves," said Shawna Gilbert, Senior Vice President of RE/MAX Global and Commercial. "RE/MAX franchisees are truly industry leaders around the world. They are a growth-focused group who are dedicated to raising the standards of the real estate industry everywhere."
International growth highlights in recent months include RE/MAX selling Master Franchise Rights in the Republic of Benin and new offices opening in Seychelles and Guadeloupe.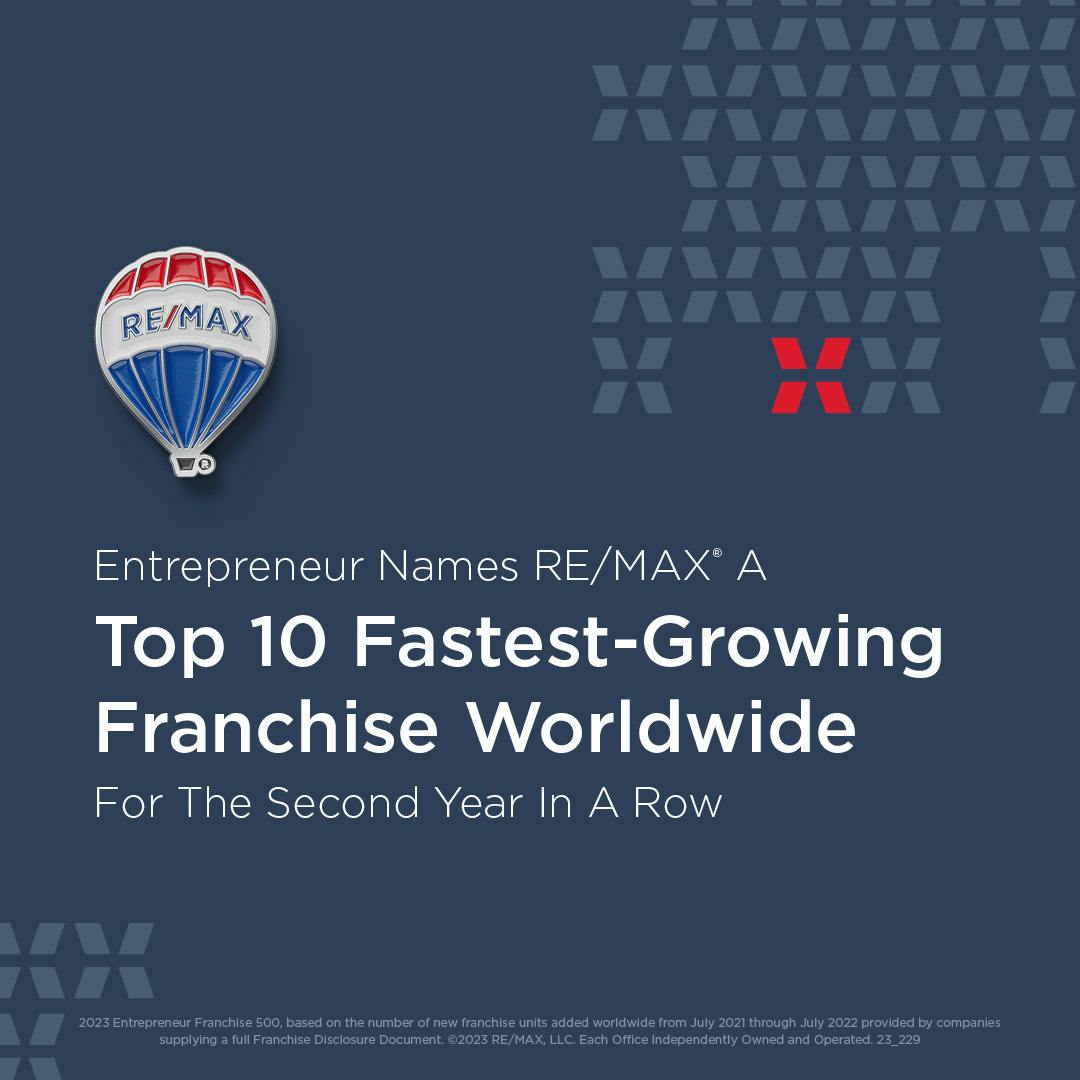 This is not the first accolade RE/MAX has earned so far from Entrepreneur in 2023. The brand was recently recognized on Entrepreneur's prestigious Franchise 500 list, earning a spot as a top franchisor for 39 years in a row.
Both rankings solidify growth as a key strength for RE/MAX. It was announced last week that RE/MAX attracted nearly 1,000 new franchises and renewed over 1,000 affiliated offices in 2022.
"The RE/MAX network has a long track record of flourishing and growing in virtually any kind of market conditions," Peter Luft, RE/MAX Vice President of Franchise Sales, said in a recent press release.
"RE/MAX is built for productive, experienced agents – and newer agents with the drive to level up – so we're able to sustain services when others are pulling back."